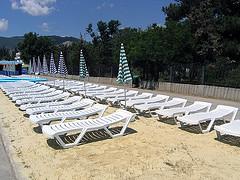 Sudak resort area formed relatively recently, so there freedom for automobile tourism, and tourist-RSM is not worse (as well as 'loshadniku' and fans of all other active modes of transportation). Special 'Cimmerian landscape', the abundance of nature and history, fairly different flavored fruit and wines. Sudak district covers a relatively small population of land south-east of the Crimea in the coastal and mountain areas. Miscellaneous The rural population engaged in viticulture and wine making, growing vegetables and aromatic plants. The urban population employed in the resorts and tourism, its a little bit – a few thousand in the village of Novy Svet and 18,000 residents in Sudak, the administrative center of the area. Sudak – a very peculiar corner of the Crimea in a surprisingly large and diverse silhouettes and colors of a mountain bowl. In the Middle Ages is one of the largest centers of world trade.
However, this only shows a huge ancient castle. And the city itself is quite small. But now here is very spacious and there is much to grow and where to be built. The abundance of services and entertainment directly to increase eyes. Not so long ago, built a water park – it is located right above the waterfront in the eastern part of the city.
Now, all that is in Sudak really interesting and pleasing to the eye – is linked to tourism and summer vacation. From year to year stalls becoming brighter and more civilized wasteland 'delayed' luxury private hotels and boarding houses. In general, the city is trying to please the guests. The prices here have always been and will be available. And of course, a huge number interesting people from different countries come here for centuries, in geological and other expeditions as well as drawing, writing poetry, making movies. Water sports and entertainment on all the beaches you can find the usual set – frogs, banana, jet skiing, sailing, windsurfing and more. In the local bays are almost never in summer are no storms, at the same time, almost always follows a good wind to sail. Come to rest in Sudak – you will not regret!